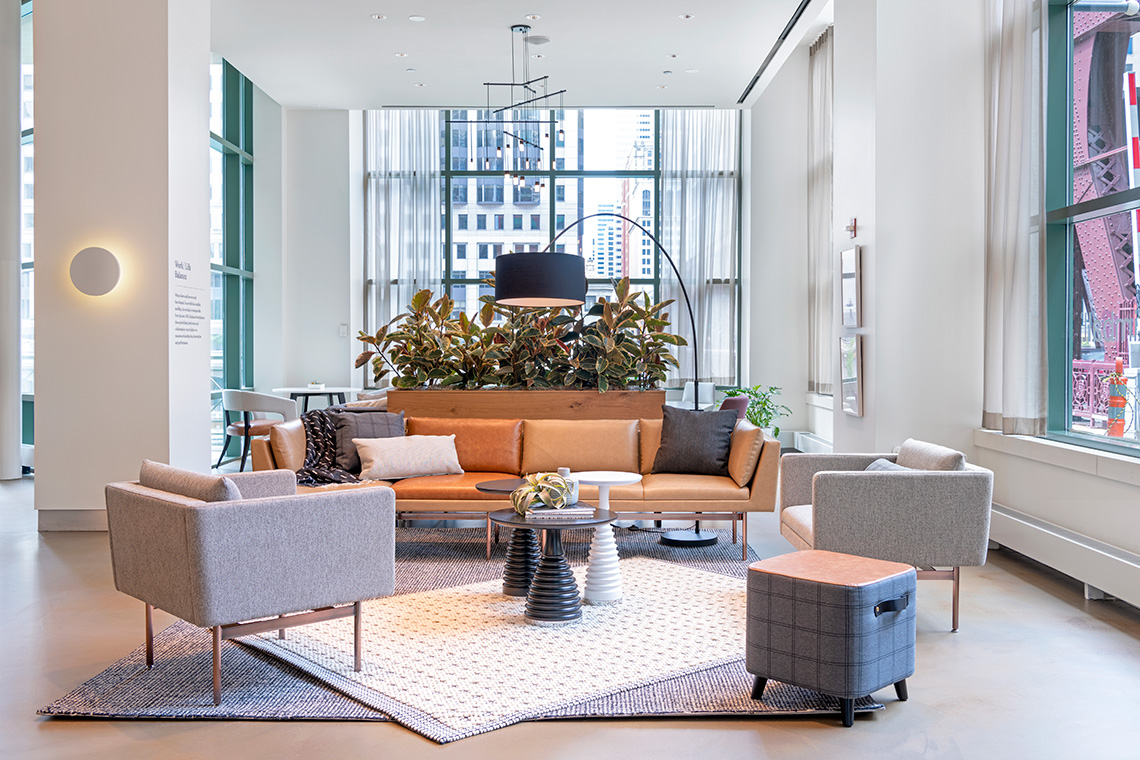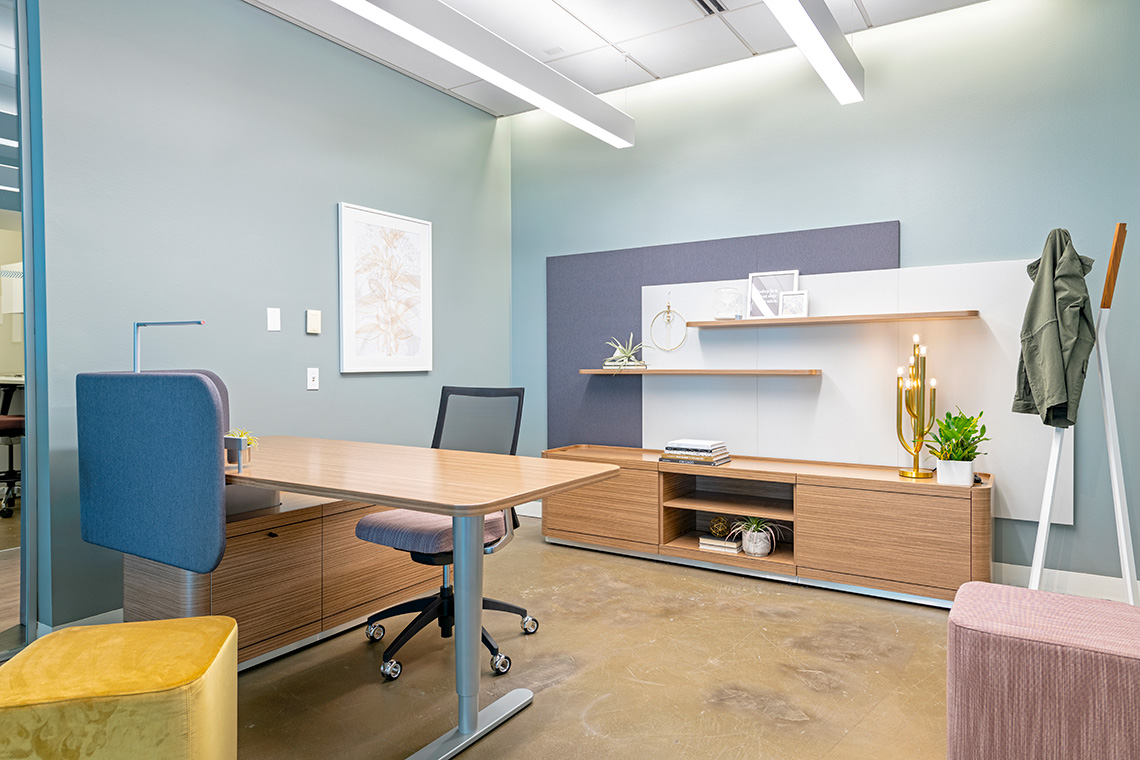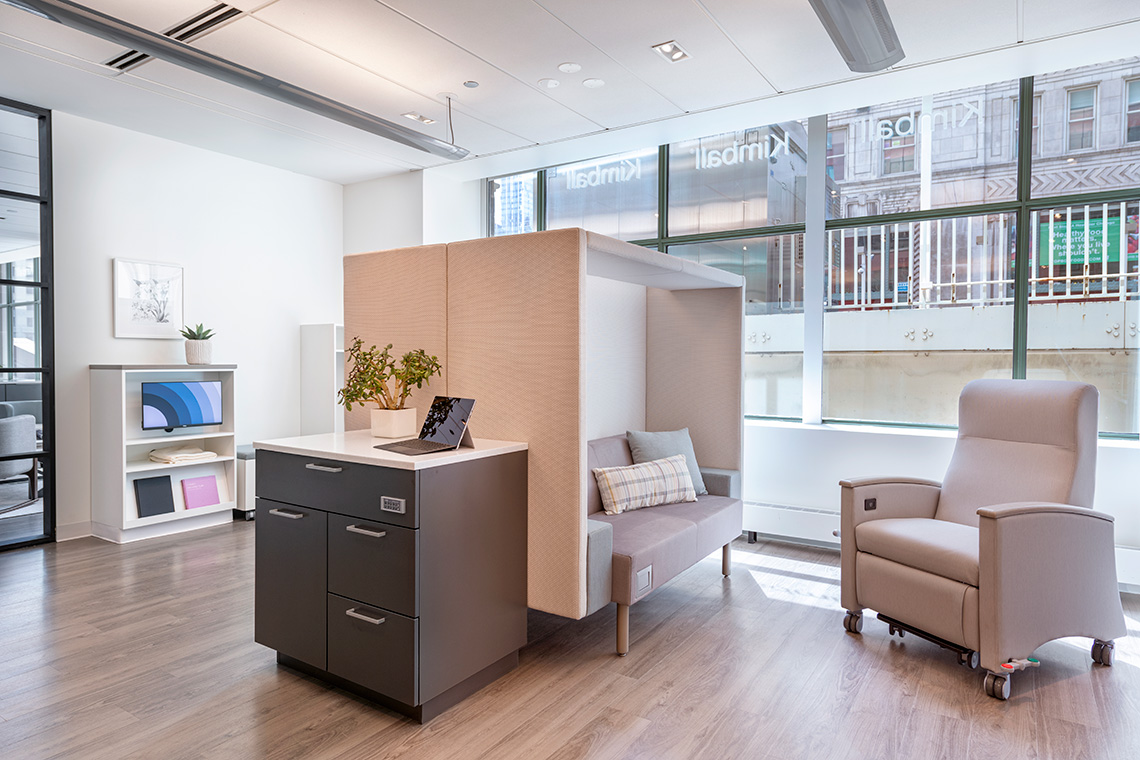 Another NeoCon has come and gone! 2019 brought us a lot of new, fresh interior solutions and we cannot get enough. This year, Kimball introduced a new kind of NeoCon theme, Sophisticozy. "Welcoming a refined sense of warmth and humanit to the workflow. Furnishings in relaxed tones and rich textures that invite people to come together comfortably. An atmosphere that not only considers our productivity but our peace of mind. Join us to experience that harmony." (Kimball)
Debut™
Our latest office solution features a modern aesthetic that showcases the Kimball design direction and craftsmanship. Featuring asymmetrical, modern aesthetic for the office. Debut includes thoughtfully designed height-adjust desks, sleek storage options and layered wall panels that support acoustic separation. Soft, rounded corners are a key element of this unique offering, which includes privacy panels and an accessory rail to house utility tools for an additional flexibility within this comprehensive solution.
Work|Able™
A new wall solutions that maximizes touchdown, group, and personal space in dense footprints with thoughtful design details. Work able creates an engaging application within the larger environment. Acoustic softness combines with a personal level of materiality, tactile and differentiation in this offering.

Whittaker™
An elegant, timeless lounge offering, Whittaker combines light and slender simplicity with a sophisticated industrial aesthetic. Utilize modular components or stand-alone freely within the interior environment. Whittaker's comfort and style, along with limitless configurations, creates a welcome setting where people feel right at home. A clean-out option meets the rigid requirements of today's healthcare landscapes.
Nate & Natty™
A family of seating designed to meet the spectrum of needs in today's workplace. Whether next to a desk or in a conference space, Nate & Natty can dress up a room with fun colors and different base options. With a lovely detail stitching, this seating family consists of a conference or guest chair, as well as counter or bar height stools. Whatever the choice, Nat & Natty are sure to enhance any space with a luxurious tone and comfort like none other. The scale of both chairs has been designed for today's spaces; the comfort for today's informal setting; and the material options for a designer to be able to easily carry a design vocabulary.

Pairings™ Nooks
As an extension of Pairings, designed by pL-D, the Pairings Nooks provides a private retreat for meetings or impromptu gatherings, while still fitting into the open plan. Pairings Nook provides enclosed spaces for a more private setting that supports collaboration or just casual conversation. Extend work surfaces off the back and add monitors, storage and markerboards for a complete, interactive solution.
Niles™
With a timeless style, Niles is a natural choice for furnishing office, meeting and conference spaces. Available in classic black and ivory with a chrome base, it comes in mid-back or high-back models for all types of applications.
Priority™ Height Adjust
Now with even greater flexibility, the expanded Priority portfolio includes new height-adjustable desks and a multitude of low storage pedestals that can be integrated for a truly comprehensive solution. Utilize a robust selection of wall panels to create a space that supports any type of modern-day work environment.

Wilder™
Wilder brings a sense of warmth and sophistication to health and commercial waiting places. The collection includes lounge, guest, and bench solutions, as well as new rocker, loveseat and ferrule options. The rocker provides passive movement to ease anxiety allows families to gather in comfort.

Greer™ & Aidin™
Greer is a modern and modest, full function patient recliner, built with quality and value in mind. The small-scale design works perfectly for today's smaller footprint spaces while still providing comfort for all body shapes and sizes. With features that provide complete functionality, Greer offer patients comfort during treatment.
Aidin, is a height adjustable, mobile clinician table that allows for greater patient interaction. Available in different top shapes and materials with an optional cup holder and spill groove, Aidin supports the needs of demanding healthcare spaces.
See the full 2019 Kimball Introduction Brochure HERE.